中国国际进口博览会客商走进上海看商机—投资闵行
---
日期: 2018/11/2 16:28:39
为增进首届中国国际进口博览会商客对举办地城市上海的了解,帮助各位客商积极抓住上海各区发展的机遇在上海投资兴业,作为"首届中国国际进口博览会客商走进上海看商机"系列的重要组成部分,上海市外国投资促进中心会同全市16个区,将陆续推出上海市各区"进博会版"投资指南,内容涵盖区情介绍、重点产业、投资机遇等。
今天为大家介绍闵行区……
我们将陆续推出其他各区的投资机遇,敬请期待。
With a view to enhancing the understanding of Shanghai – host city of the first China International Import Expo (CIIE) by the CIIE participants, and facilitating them to actively seize the development opportunities in the various districts of the city to invest and prosper, as an important part of the series of "Business Opportunities in Shanghai for first CIIE Participants", Invest Shanghai, together with the 16 districts of the city, will successively launch CIIE investment guides of each district, covering district profiles, key industries, investment opportunities and so on.
Now comes Minhang District...
More are coming soon.
MINHANG SHANGHAI CHINA
Located in the center of Shanghai, Minhang looks like a key. It has one of the largest transportation hubs in the world - Hongqiao comprehensive transportation hub. It is a bridgehead facing the Yangtze River Delta and the whole country and the world. The area is 372 square kilometers and the total population is 2.53million. In 2017, the GDP was 223.7 billion yuan, the total revenue was 78.3 billion yuan, the district revenue was 27.9 billion yuan, the number of regional headquarters of transnational corporations was 39, state-level enterprise technology centers was 8, municipal enterprise technology centers was 53, foreign R&D institutions was 44, and 985 universities was 2. The comprehensive strength of Minhang has been in the forefront of Shanghai in a long term.
Part1. Overall layout
Minhang's industrial layout will be dominated by "one district, two belts" and form the industrial spatial development pattern of "nine pieces fall into one Bay, two centers accompany seven business districts", supporting the overall strategy of dual-wheel drive and integration of advanced manufacturing industry and modern service industry.
Supported by innovative and entrepreneurial carriers such as Minhang Development Zone, Zizhu High-tech Zone, Lingang Pujiang Park, Xinzhuang Industry Park and Nanbinjiang, focusing on the development of advanced manufacturing such as high-end equipment, artificial intelligence, new-generation information technology and biomedicine, relying on business carriers such as Hongqiao Business District, Nanhongqiao Business District, Qibao Ecological Business District, Xinzhuang Business District and Southern Business District, Minhang puts efforts to promote the dislocation development of modern service industry and the development of financial industry, headquarters trade, cultural creativity and productive service industry.
1. SOUTH SHANGHAI HIGH-TECH AND INTELLIGENT MANUFACTURING BELT
The South Shanghai Hi-tech and Intelligent Manufacturing Belt is the main bearing belt for Minhang to build the core area of South Technology and Innovative Center. With the S32 Shenjiahu Expressway as the axis, it runs through both banks of the Huangpu River from west to east, forming the spatial layout of "nine pieces fall into one Bay, two centers accompany seven business districts", just like an aircraft carrier sailing to the world.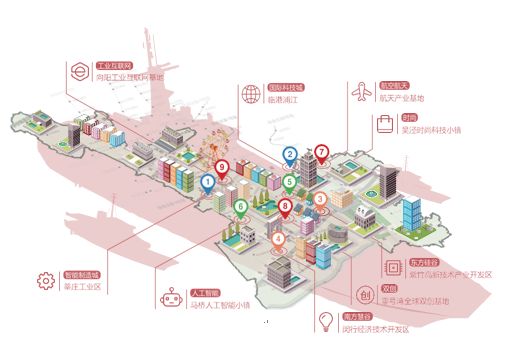 2.GREATER HONGQIAO INTERNATIONAL BUSINESS BELT
The Greater Hongqiao International Business Zone takes Qixin Road--Hunmin Road as the development zone, Hongqiao transportation hub as the core radiation source, with Hongqiao sub-center and Xinzhuang sub-center radiating seven important business districts: Wuzhong, Qibao, Yindu Road, Jiuxing, Nanfang, Jianchuan Road and Pujiang, forming the spatial layout of "two centers accompany seven business districts" , which is like a space rocket flying into space.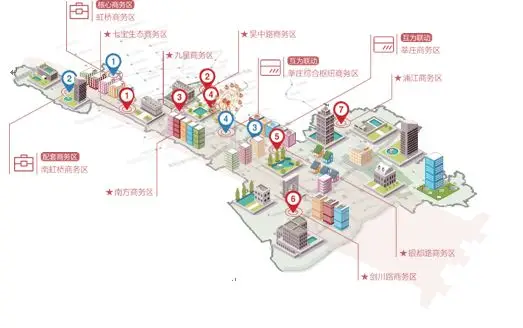 Part 2.INVESTMENT ENVIRONMENT
1. Cultural background
Minhang brings together the historical and cultural features of China: Zhaojialou Ancient Town, Maqiao Town, Qibao Old Street and Hanxiang Water Expo Park, which is quite antique. The modern characteristic culture is also brilliant: Jinjiang Park has many large-scale amusement projects and characteristic landscapes, 101 Laowai Street is a collection of life cultures of various countries. The streets are surrounded by cultural activities centers and sports activitie: Zhuanqiao paper-cutting, Xinzhuang crochet knitting and other folk handicraft inheritance and development.
2.Educational advantage
Minhang has 392 schools at all levels, and the number of international schools in the district is half that of the whole city. At present, the University of Southern California, Lyon Business School in France, Michigan College in the United States, the Institute of Excellent Engineers in Paris and other international educational institutions have been successfully introduced to cultivate world-class talents.
3.Medical security
he medical and health service system in Minhang is perfect, with 28 public medical institutions including the affiliated Medical Institutions of Fudan University and Tongji University. The new Hongqiao International Medical Center under construction is striving to build a high-end medical service industry platform, bringing together 8 high-quality international medical resources such as Anderson Cancer Center, GE Healthcare in America and Parkway Health in Singapore.
4. Green ecology
Minhang has a beautiful ecological environment with a forest coverage rate of 16% and a park area of 9.4 square meters per capita. It has a number of high quality park facilities such as Minhang Sports Park, Minhang Cultural Park, Pujiang country park and so on.
Business Promotion Center of Minhang, Shanghai(闵行区招商服务中心)
TEL:(86)21-54438189
54437067
54436599
(Investment Promotion Department)
若想了解更多信息,请点击"阅读原文"下载
来源:信息部
附件:投资闵行.pdf 点击下载