中国国际进口博览会客商走进上海看商机—投资青浦
---
日期: 2018/11/7 15:39:23
为增进首届中国国际进口博览会商客对举办地城市上海的了解,帮助各位客商积极抓住上海各区发展的机遇在上海投资兴业,作为"首届中国国际进口博览会客商走进上海看商机"系列的重要组成部分,上海市外国投资促进中心会同全市16个区,将陆续推出上海市各区"进博会版"投资指南,内容涵盖区情介绍、重点产业、投资机遇等。
今天为大家介绍青浦区……
我们将陆续推出其他各区的投资机遇,敬请期待。
With a view to enhancing the understanding of Shanghai – host city of the first China International Import Expo (CIIE) by the CIIE participants, and facilitating them to actively seize the development opportunities in the various districts of the city to invest and prosper, as an important part of the series of "Business Opportunities in Shanghai for first CIIE Participants", Invest Shanghai, together with the 16 districts of the city, will successively launch CIIE investment guides of each district, covering district profiles, key industries, investment opportunities and so on.
Now comes Qingpu District...
More are coming soon.
投资青浦
Investing in Qingpu
一、青浦概况
Overview of Qingpu
青浦区被誉为"黄浦江上游的璀璨明珠",总面积668.5平方公里,地处长江三角洲腹地,是上海市辖范围内唯一一个与江苏、浙江两省接壤的行政区。近年来,青浦区正加快打造成为上海对外服务的门户城市和长三角一体化发展的综合性节点城市。
Known as "a pearl on the upper Huangpu River", Qingpu District, located at the heart of the Yangtze River Delta (YRD) region, covering an area of 668.5 kilometers, is the only administrative district in Shanghai that borders both Jiangsu and Zhejiang Provinces. In recent years, Qingpu has been quickening its pace to become a gateway of Shanghai to serve larger markets and a pivotal player in the integrated development of the YRD region.
依托独特的区位优势、生态优势和产业优势,青浦区着眼最有条件、最有优势的领域,努力做好生态建设、特色产业、乡村振兴三篇大文章,扎实推进全面跨越式发展战略实施,全力构建生态宜居的现代化新青浦。
Building on its unique advantages in location, eco-environment and industries, Qingpu is focusing on improving local ecological conditions, developing specialized industries and reinvigorating rural economies, as part of its overall development plan to transform itself into a "New Qingpu" both vibrantly modern and ecologically livable.
青浦区现已迈入了"全面跨越式发展"的历史新阶段。继往开来、浸明浸昌,青浦区这一"上海之源"正悄然蝶变为通达海内外的"上海之门"。
Qingpu has developed into a new stage characterized by all-round leaping growth. Building on existing achievements, Qingpu, the origin of Shanghai, is rapidly transforming into the gateway of the metropolis towards home and abroad.
二、产业介绍
Industry introduction
青浦区立足于现有的产业基础和资源优势,培育形成了"三大两高一特色"的主导产业体系。依托包括会展服务、快递物流、北斗导航、民用航空和跨境电商五大产业平台,青浦区积极促进产业转型升级,向数字化、智能化和智慧化迈进。
Taking advantage of its current industries and resources, Qingpu has established a pillar industry system in the "3+2+1" pattern. Based on the industry platforms of exhibition services, logistics, BeiDou navigation satellite system, civil aviation and crossborder e-commerce, the district is proactively promoting transformation and upgrading to foster smart and digital-enabled industries.
(一)做强"三大",打造现代服务业新高地
Enhancing the "Three Major Industries" to develop a new excellence center of modern service
1、"大物流"
Logistics Services
集聚了圆通、中通、申通、韵达、德邦等快递企业总部,青浦区进一步加强总部集聚、提升能级,力争打造新的千亿级产业集群。同时,通过物流与大数据、资本、金融、结算的融合,加快新型物流业的转型升级,建成全国快递物流总部信息科技创新中心。2017 年,国家火炬上海青浦智慧物流特色产业基地正式揭牌成立,对推动区域物流产业特色发展、转型升级具有重要意义。
With the HQ of YTO、ZTO、STO、Yundaex and Deppon, Qingpu is endeavoring to develop a new industry cluster that produces an annual output of RMB 100 billion or more through enhanced headquarters agglomeration and capacity upgrading in logistics services, while speeding up the transformation and upgrading towards the formation of new-type logistics services through integration with big data, capital operation, finance, and settlement, with an aim to building a Chinese national information technology innovation center for express delivery and logistics service headquarters. The official establishment in 2017 of Shanghai Qingpu Smart Logistics Specialized Industry Base under the national Torch Program marked a significant step forward in the district's distinctive development of logistics industry and its further transformation and upgrading
2、"大会展"
Exhibition and Convention Services
依托国家会展中心,加快形成与建筑体量相匹配的产业规模,打造大会展平台,提高会展产业带动效应的同时,促进商贸、商务、休闲旅游等产业要素的集聚联动。
Based on the National Exhibition and Convention Center (NECC), Qingpu is accelerating the building of a master platform for exhibition and convention services to scale up the industry that matches the construction size and functions effectively to boost the district's economy, while promoting the clustering and synergic development of business, trade, recreational tourism, and other related industries.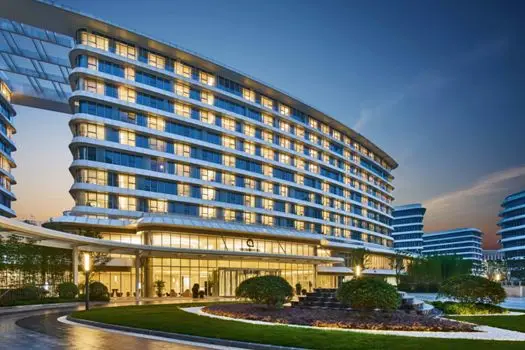 3、"大商贸"

Commercial and Business Services
依托奥特莱斯和重点品牌企业等现有产业基础,以轨道交通17 号线通车为契机,大力发展站点经济,提升现代商业能级,打响"上海购物"品牌。
Leveraging the existing resource base built on Shanghai Outlets and a series of established business service brands, Qingpu is making efforts to develop the "station economy" and upgrade the capacity of modern business services by taking advantage of the operation of the Qingpubound Shanghai Metro Line 17, contributing to the branding of Shanghai as a global shopping center.
(二)升级"两高"带动全区制造业发展的战略转型,建设科创新中心新载体
Upgrading the "Two High-end Industries" to facilitate the strategic industry transformation of advanced manufacturing in the district towards new functions of the technology innovation center
1、高端信息技术

Advanced Information Technology
围绕市西软件园,促进全市新一代信息技术产业布局向青浦拓展和延伸。以华为研发中心和北斗导航平台为主要载体,强化下一代信息技术、云计算、大数据、软件信息、位置服务、物联网、移动互联网等为代表的新兴技术的研发和应用,并促进高端信息技术与金融产业的融合发展。
The establishment of the Qingpu-based Shanghai Shixi Software and Information Park has provided an opportunity for the extension of Shanghai's new-generation IT industries to the district. Facilitated by the Huawei R&D center and the BeiDou navigation industry platform, Qingpu is proactively promoting the R&D and applications of emerging technologies represented by next-generation information technology, cloud computing, big data, software information, location services, IoT, and mobile internet, while enhancing the integrated development of advanced information technology and financial industries.
2、高端智能制造
Advanced Smart Manufacturing
聚焦智能汽车和关键零部件、人工智能及智能装备制造、航空制造及通用航空、精准医疗及高端医疗器械、节能环保及新能源装备制造五大区内优势产业领域,加快向高端智能制造转型,提升智能制造能级和水平, 着力打响"上海制造"品牌.
Qingpu is pushing forward the industry transformation towards advanced smart manufacturing featured by improved industry capacities, with a focus on the five competitive industries in the district, namely, smart automobiles and key auto parts; artificial intelligence and smart equipment manufacturing; aviation manufacturing and general aviation; targeted medical care and advanced medical equipment; and energy saving, environmental protection and new-energy equipment manufacturing, promotingu the presence of Shanghai as a global manufacturing center.
(三)培育"一特色"构建文旅健康发展新基地
Cultivating the "One Specialized Industry" to create a new featured base for developing cultural tourism and health industries

文旅健康
Cultural Tourism and Health Industries
发挥青浦西翼地区人文资源和生态禀赋的优势,着力打造大健康平台,实现以"医"为主体的医疗医药、以"养"为基础的养老养生、以"健"为支撑的健体康体、以"文"为特色的文旅休闲等产业的创新、集聚、融合发展,从而提升青浦文旅健康产业发展的社会认知度和市场认可度,为未来形成千亿级的产业集群打下坚实基础。
Taking advantage of the strong cultural and ecological resources in the western Qingpu, the district plans to build a comprehensive health platform intended to boost innovative, clustering and integrated industry development of medical care and medicine, senior care and healthcare, fitness, and cultural and recreational tourism, in an effort to promote the social recognition and market presence of these featured industries, contributing to the establishment of an industry cluster producing an annual output of RMB 100 billion or more.
三、配套支持
Supporting facilities
青浦区立足于中国长江三角洲经济圈的中心地带,建立了由高速公路、轨道交通、航空、水路等多途径联动的立体交通网络,助力长三角跻身"世界级城市群"。
Located at the heart of the YRD Economic Rim, Qingpu has taken the lead in establishing an integrated multi-mode transportation system which includes highways, railways, and air and water transportation, with a view to promoting the development of the YRD region into a world-class city cluster.
青浦区拥有宋庆龄学校、复旦附中青浦分校、上海青浦世界外国语学校、上海平和学校青浦分校等优质教育资源,另有西华国际学校、德国学校、法国学校、美国学校等国际学校。
Qingpu is home to a number of prestigious institutions for basic education, such as Soong Ching Ling School, the High School Affiliated to Fudan University (Qingpu Campus), Shanghai Qingpu World Foreign Language School, and Shanghai Pinghe School (Qingpu Campus). Quality education for children of expatriates working in the district is provided in a diversity of international schools, including the Western International School of Shanghai, the German School and Kindergarten Shanghai, the Lycée Français de Shanghai, and Shanghai American School.

医疗资源包括了中山医院青浦分院、青浦区中医医院、上海德达医院、上海冬雷脑科医院等。
Medical and Heathcare Facilities include Qingpu Branch of Zhongshan Hospital Affiliated to Fudan University, Qingpu Traditional Chinese Medicine Hospital DeltaHealth Hospital in Shanghai, Shanghai Donglei Brain & Spine Hospital.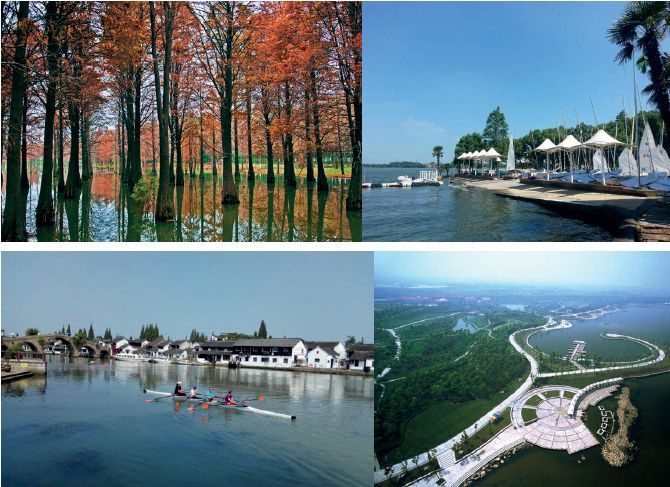 青浦以绿色生态环境作为自身发展的潜力优势,成功创建了"国家环境保护模范城区",以天蓝、地绿、水清、气净,绘出一幅生态宜居的"绿色青浦"画卷。
Dedicated to protecting its ecological assets as a comparative advantage, Qingpu has been recognized as a "National Model District for Environmental Protection" for its efforts in creating an eco-friendly green environment.
2018 年11 月,国家会展中心将举办"首届中国国际进口博览会",为推进会展产业发展,青浦区出台《对接"6+365"中国国际进口博览会实施意见》,搭建"6+365"交易平台,打造永不落幕的进口博览会。
In November, 2018, the first China International Import Expo (CIIE) is held in NECC. To promote the exhibition and convention services in Qingpu, "Recommendations on the Implementation of "6+365" Policies for CIIE in Qingpu District (Provisional)" has been formulated. The Recommendations were formulated in order to provide services to CIIE" in a safe, orderly and thorough manner, to transform Qingpu District into a role model area of China's external trade.
选择青浦,选择成功!
Choose Qingpu, Choose the success!
联系电话:021-69215222,69215333
青浦区经济委员会
若想了解更多信息,请点击"阅读原文"下载
来源:信息部
附件:投资青浦(EN)_看图王.pdf 点击下载