中国国际进口博览会客商走进上海看商机—投资静安
---
日期: 2018/11/7 15:45:17
为增进首届中国国际进口博览会商客对举办地城市上海的了解,帮助各位客商积极抓住上海各区发展的机遇在上海投资兴业,作为"首届中国国际进口博览会客商走进上海看商机"系列的重要组成部分,上海市外国投资促进中心会同全市16个区,将陆续推出上海市各区"进博会版"投资指南,内容涵盖区情介绍、重点产业、投资机遇等。
今天为大家介绍静安区……
我们将陆续推出其他各区的投资机遇,敬请期待。
With a view to enhancing the understanding of Shanghai – host city of the first China International Import Expo (CIIE) by the CIIE participants, and facilitating them to actively seize the development opportunities in the various districts of the city to invest and prosper, as an important part of the series of "Business Opportunities in Shanghai for first CIIE Participants", Invest Shanghai, together with the 16 districts of the city, will successively launch CIIE investment guides of each district, covering district profiles, key industries, investment opportunities and so on.
Now comes Jing'an District...
More are coming soon.
投资静安
Investing in Jing'an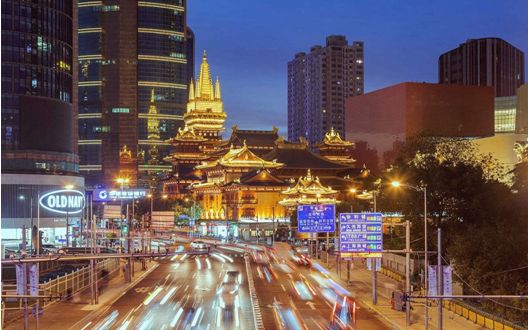 "静安"因境内古刹静安寺而得名,地处上海市中心,周边与六个区相邻。2015年10月,国务院正式批准闸北区与静安区"撤二建一",设立新的静安区。静安区常住人口107万,面积37平方公里,辖13个街道,1个镇,276个街道(村)委员会。静安区地理位置优越、交通便利、四通八达,交通网络包括铁路、高架桥、地铁和公交车,享有"陆地北门"的美称。凭借悠久的历史、良好的环境、发达的商业、创新的活力、便利的交通和通讯,静安区成为世界各地了解上海的重要窗口。
Jing'an District is named after the historical Jing'an Temple in the region. It is located in downtown Shanghai and adjacent to the city's six districts. In October 2015, the State Council officially approved the merger between Zhabei District and Jing'an District for the consolidation of the new Jing'an District. With a permanent population of 1.07 million and an area of 37 square kilometers, Jing'an District has jurisdiction over 13 sub-districts, one town and 276 neighborhood (village) committees. Jing'an District boasts superior location and convenient traffic extending in all directions, with the traffic network consisting of railway, viaduct, metro and bus. It enjoys a laudatory title of "North Gate on Land". With long history, good environment, developed business, innovative vitality, convenient transportation and communication, Jing'an serves as a major window for the rest of the world to know Shanghai.
静安确定了"国际静安,圆梦福地"的目标,大力实施"一轴三带"区域发展战略。"一轴"是指静安区正在建设一条连接南北的复合发展轴。"三带"分别是"南京西路两侧的高端商业集聚带", "苏州河沿岸的文化娱乐商业带","中环路两侧的城市产业一体化带"。通过"一轴三带",静安区将努力实现"国际静安,圆梦福地"的宏伟蓝图,推动静安成为中心城区的新标杆和上海发展的新亮点。
Jing'an has determined the objective of "International Jing'an, A Promised Land" and vigorously implemented the district development strategy of "one axis and three belts". "One axis" means that Jing'an District is building a compound development axis connecting the south and north and featuring sharing and mutual integration to coordinate regional development. "Three belts" are "high-end business clustering belt on both sides of West Nanjing Road" "cultural and recreational business belt along the Suzhou River" and "city-industry integration belt on the both sides of the Middle Ring Road". By well implementing the strategy, Jing'an District will strive to realize the grand blueprint of "International Jing'an, A Promised Land" and boost Jing'an to become a new landmark of the central urban area and new development highlight of Shanghai.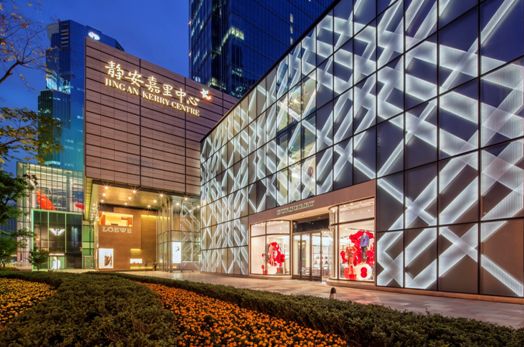 静安区产业链完整,南北差异明显,经济形式多样,行业业态丰富。静安区大力推动楼宇经济、总部经济和涉外经济,着力发展五大重点产业,包括商贸服务业、金融服务业、专业服务业、文化创意业、信息服务业。静安还是高端楼宇的聚集地,包括嘉里中心、会德丰广场、恒隆广场、梅龙镇广场、中信泰富广场等。2017年,楼宇经济占全区税收总额的59.46%,其中亿元楼67幢,月亿楼8幢。静安楼宇经济的蓬勃发展吸引了大批跨国公司、地区总部和国际企业落户静安。
There are complete industrial chains, obvious south-north differentiation, diverse forms of business, and a whole range of industries. The headquarters economy, the commercial real estate economy and the export-oriented economy are all in full swing. There are five influential industries in Jing'an, including the trade service brands, the professional service industry, the financial service industry, the cultural and creative industries and the information technology industry. Jing'an is a hotspot of high-end commercial real estates including Kerry Center, Wheelock Square, Plaza 66, Westgate Mall, CITIC Square, etc. In 2017, commercial real estate accounted for 59.46% of the district's total tax revenue; in particular, 67 buildings each paid taxes of more than RMB 100 million annually and 8 buildings even paid taxes of more than RMB 100 million monthly in average. The booming of Jing'an in commercial real estate has attracted a large batch of transnational corporations, regional headquarters and international enterprises settled in Jing'an.
为营造良好的投资和工作环境,静安区政府在税收优惠、鼓励创新、财政扶持等方面出台了一系列优惠政策。同时,静安区政府制定了白领午餐工作扶持政策,公租房保障等政策,为打造更好的营商环境提供支持。
To create a good investment and work environment, Jing'an District government has issued a series of preferential policies on tax incentives, innovation and financial support.At the same time, Jing'an District government has formulated the white-collar lunch work support policy, public rental housing security policy to build a better business environment.
Conctact person: Kelly Zhang 张 科
SHANGHAI JING'AN COMMISSION OF COMMERCE 上海市静安区商务委员会
ADD:Rm.801, No.915 Julu Rd, Shanghai China 中国上海市巨鹿路915号801室
TEL: 021-33371830 13764261370
若想了解更多信息,请点击"阅读原文"下载
来源:信息部
附件:投资静安docx_看图王.pdf 点击下载